We have a selection of resource material: from CDs to puppet sets that can be purchased through Julia Gabriel Centre, for your child and you to continue the joy of learning together at home.
A learning adventure with Rainbow Bear
Rainbow Bear was conceived over 25 years ago by Julia Gabriel (Founder and Director, Julia Gabriel Education) with the aim of laying the foundations for confident, articulate and expressive communication skills in the most engaging manner possible. Beautifully illustrated books, finger puppets and hand puppets, as well as music CDs and songbooks, comprise the current Rainbow Bear range. These colourful, stimulating and highly enjoyable literacy aids have been specifically designed to compliment any preschool's early childhood curriculum and learning strategies, as well as to create hours of fun at home for young children and their families.
BOOK SETS
Written by Julia, Gabriel, each book set is accompanied by a songbook and CD, and includes lots of fun facts, activities and tongue twisters for children, parents and teachers.
An Alphabet Zoo Phonemic Adventure with Rainbow Bear
An introductory reading adventure that lays the foundations for confident reading.
For children 2 – 5 years old.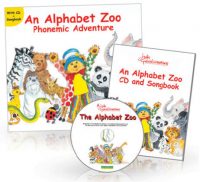 Rainbow Bear's Dinosaur Discovery An Adventure in Blends and Digraphs
The second book set in the series of reading adventures introduces 24 dinosaur characters that help Rainbow Bear along the path to fluent reading.
For children 3 – 6 years old.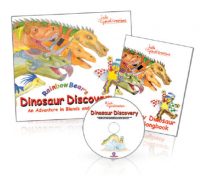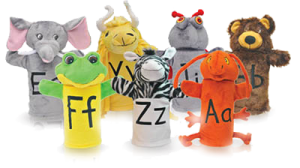 PUPPETS
Children love puppets!They're great for engaging the imagination and building confident expressive communications skills.
Alphabet Zoo 26 Hand Puppets
Use to introduce a specific letter or sound, as part of a drama activity, or in combination with the book sets. Comes as a set in an illustrated zip-up bag.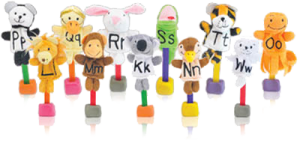 Alphabet Zoo 26 Finger Puppets
Ideal for using in conjunction with the book sets or for creating little finger puppet plays.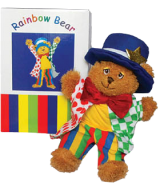 Rainbow Bear (Hand Puppet)
Children love this adorable puppet. He's bound to become every child's best friend. And the box doubles up as a mini puppet theatre!
SPEECHWORKS
This invaluable CD, along with the accompanying booklet, clearly demonstrates the correct pronunciation of Standard English sounds and how to use them in the natural rhythm of speech. It is useful for all the family, particularly children of about six years onwards. The CD is available for purchase but is free to all students who attend EduDrama programmes.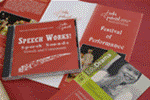 PLAYCLUB BEAR SONGS
Songs are a great way for young children to learn language as they enjoy the rhythm of the music, and catch repeated sounds and words. This collection of favourite songs from JGCL's EduPlay (early childhood) programmes, sung by our very own colourful and loveable PlayClub Bears, will have all the family joining in.