For over thirty years, Julia Gabriel has positively impacted the lives of many children across the region with programmes anchored in our trademarked EduDrama® methodology. The Julia Gabriel brand is reputable, and one that is known for providing excellence in education for students as young as 6 months to adult learners. 
The Julia Gabriel Education partnership provides opportunities to take a vibrant curriculum for children aged 6 months to 6 years to both local and overseas markets. Partnerships can take the form of franchise opportunities that provide partners with a tried and tested approach to running a preschool under the Julia Gabriel Education brand, or licensed programmes conducted under the partner's own brand.
We invite you to join the Julia Gabriel family to Empower Learners With Skills For Life, Through Dramatically Different Education.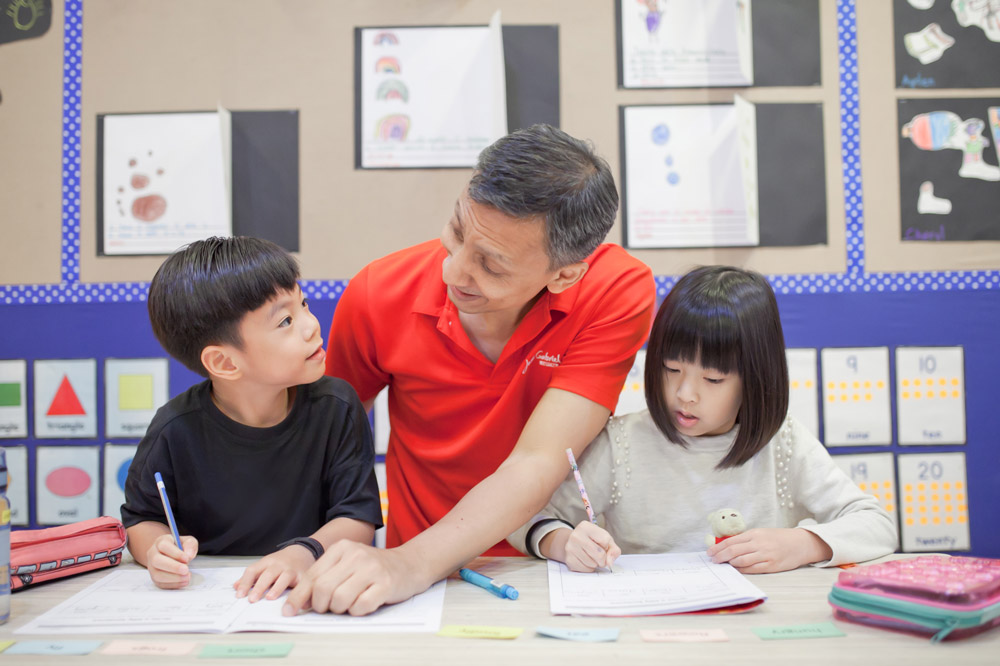 Why partner with Julia Gabriel? 
The Julia Gabriel Preschool curriculum has been tried and tested in Singapore and in Malaysia, Indonesia, China and India. It offers holistic education with a strong focus on nurturing confidence, creativity, communication and collaboration in all our students. 
At Julia Gabriel Preschool, we believe that learning must be a positive lifelong process. To achieve this, we work closely with our partners to:
Ensure there is a warm, friendly and stimulating learning environment, filled with love and laughter




Celebrate and respect each individual as a unique and valued member of our school community

Value, support and work with the family as partners in education 

See parents, teachers and peers as influential role models and sources for learning

Promote positive self-esteem and self-confidence through sensitive and responsive interactions
Value play as the primary mode of learning through which children develop mastery of their world

Provide a developmentally appropriate curriculum, valuing the processes of learning through integrated experiences.

Provide optimum care from dedicated professionals who seek to build trusting relationships with each child and their family

Regularly evaluate programmes and outcomes to ensure they are relevant to the evolving needs of the individual and community

Provide an efficient management and administration system to support the childcare environment and family needs
Julia Gabriel Franchise Model
The Julia Gabriel Franchise provides partners with curriculum across five levels for children 18 months to 6 years old. Partners can also choose to offer Early Learning Programmes such as PlayNest and PlayClub, available in both English and Mandarin, if demand for adult-accompanied programmes is strong in their country. 
Training is provided by the Julia Gabriel School of Education, and covers all functions from teaching to enrolment and centre administration. This ensures that partners are well supported in the running of a preschool.  
Partners are also provided access to student management and learning management systems to facilitate the administrative and training requirements of a preschool.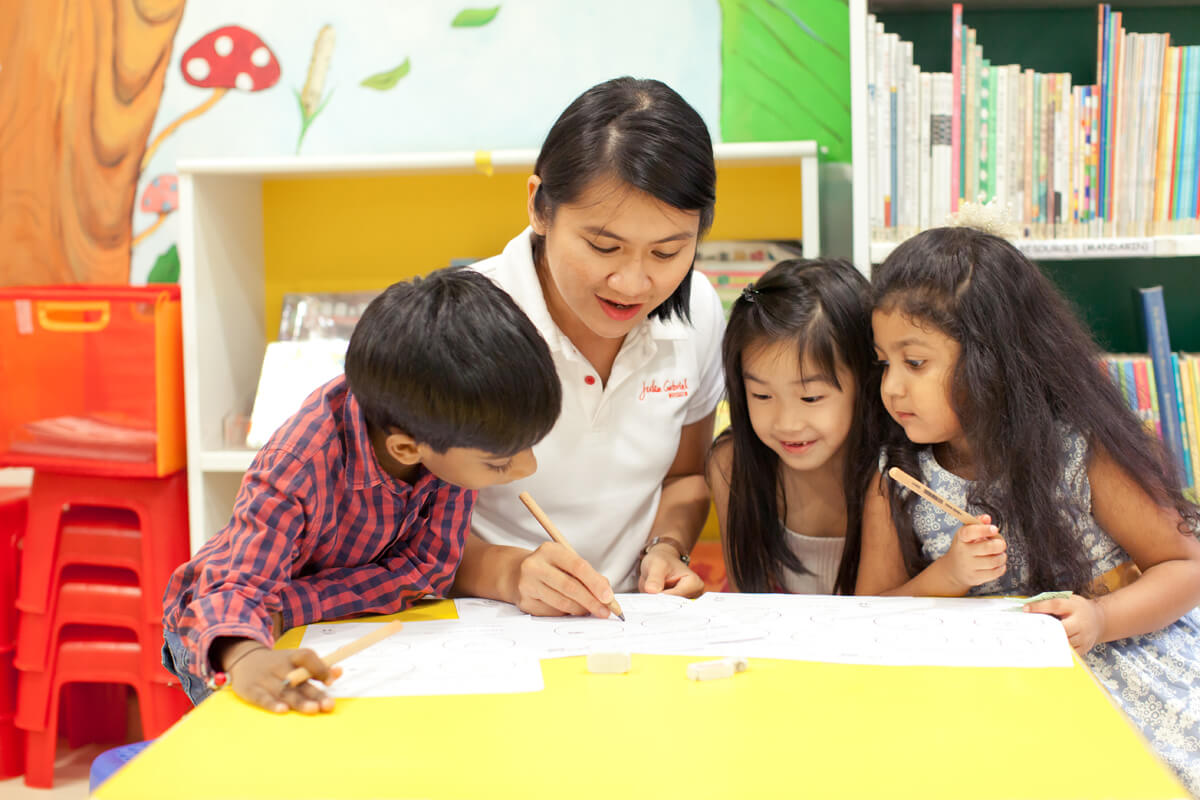 Partners who prefer to conduct programmes under their own brand can explore licensing opportunities for preschool, or English and Mandarin enrichment programmes offered by any of the three brands under Julia Gabriel Education. 
Partners who wish to experience the benefits of EduDrama® methodology in their schools or enrichment centres can also work with us to develop a customized training and development plan to achieve a Julia Gabriel EduDrama® accreditation.
"In 2003, having two young children, we were looking to bring a good bilingual education system that incorporated both English and Mandarin to Jakarta. We were introduced to Julia Gabriel and her preschool, Chiltern House, in Singapore. After enrolling both our children in Chiltern House Singapore for more than three months, we knew that this was the school we wanted.
Our first centre opened in September 2004 with full support from Julia herself and senior members of her leadership team. Strong marketing support enabled us to launch our first term with 100 students enrolled in Speech & Drama, PlayClub and Chiltern House programmes. Every quarter, staff from Julia Gabriel International visited Jakarta to hold parenting seminars, train teachers and conduct quality control audits.
Parents often tell us that Chiltern House alumni always stand out in Primary 1 as being more confident compared to their peers. Furthermore, Primary 1 teachers can usually spot our alumni in their classes.
Today, 18 years later, our first two cohorts of students have graduated from university while others have been accepted into top colleges, mostly in the United States of America. Many of the alumni remember Chiltern House fondly as a nurturing place where they first built their self-confidence and started their journey of exploring and discovering the best version of themselves."
– Elly Salim, Centre Director
Julia Gabriel Centre & Chiltern House Preschool, Jakarta, Indonesia
"As the Kuala Lumpur centre celebrates its 15th year of establishment in 2021, I am reminded of our extraordinary journey starting up our first centre in the Bangsar township. Back then, together with a small group of passionate team members, we were strategically supported at every step of the way by Julia and the key leadership team in Singapore, all of whom had been instrumental in their role as mentors to help us learn and understand the EduDrama® philosophy of Julia Gabriel Education, and in keeping us aligned with the brand's pillars of value.
Families in the Klang Valley were immediately attracted to our unique, dramatically different culture, a refreshing movement in the local education system in the early childhood sector as the programmes that we were running were truly exceptional: brought together by the magic of speech and drama and led by specialist educators privileged to be trained by the Julia Gabriel School of Education.
Over the years, we have seen our children step out of their shells, spread their wings, and step into leadership roles – outspoken and filled with zest for life and love for learning. And it is this deep setting fulfilment, with the knowledge that what we do here is changing lives for the better, that has continued to ignite and drive the passion in all of us to continue down this path. Our achievements would not have been possible if it weren't for the invaluable support from Julia Gabriel International that has helped us achieve milestone after milestone in our rise to become one of the industry leaders."
– Wang Pau Lee, Centre Director
Julia Gabriel Centre & Chiltern House Preschool, Kuala Lumpur, Malaysia
"Julia Gabriel Centre came not only with a world-renowned 'name' that attracted parents, but also with different philosophies and programmes that were foreign to the Indian education market. Firstly, the Early Learning Programmes such as PlayNest and PlayClub were exceptionally received by the Indian market. They brought in something new and modern, and its beautiful collaboration with music and personalisation made this programme a huge success. It allowed our little tots to develop different skills like conceptual thought, communication and emotional development in a fun and cheerful environment, while also nurturing the bonds between mothers and toddlers.
Even babies as young as six months old in the PlayNest programme were able to experience more interactive ways of learning. Encouraging, secure and enjoyable environments, where 'play' was at the heart of learning, ensured children achieved developmental milestones, and instantly attracted parents to this programme.
Julia Gabriel's philosophy and the use of EduDrama® as a tool for learning transformed the preschool market in India. It gave our brand a stand out factor which quickly became loved by parents and young ones here. Another much-loved programme was Drama, Communication & Literacy, that nurtured an environment fuelled by creativity and imagination, fostering enjoyment as well as learning.
The Julia Gabriel brand brought 'internationalism' to New Delhi, and is the basis of us gaining popularity, as people could recognise and trust a renowned Singaporean brand. The Julia Gabriel Education team was there for every step, truly making them our extended family!"
– Aditi Malhotra, Centre Director
Julia Gabriel Centre, New Delhi, India

Partnership Enquiry Form
*Mandatory Fields