Sometimes it helps to get your tongue in a twist!
She sells sea shells on the sea shore. Can you say this sentence as quickly as possible whilst still articulating all the sounds clearly? 
How did you get on? Did you end up in a 'muddy puddle'?
This well known sequence of 's' and 'sh' sounds, is thought to be the first tongue twister, inspired by the life of Mary Anning, a 19th Century palaeontologist who became famous for her fossil finds on the Jurassic coast of England.  She sells sea shells on the sea shore was popularised at the time as a diction exercise, one of the many benefits of learning tongue twisters. 
'A tongue twister is a short phrase, a rhyme, or series of phrases containing groups of repeated or juxtaposed sounds, requiring quick and nimble changes of place or manner of articulation.'  (EduDrama by Julia Gabriel, ch.11, p.89.)
At Julia Gabriel Education we use age-appropriate tongue twisters in many of our programmes, particularly our Drama and Communication Programmes.  They are used as speech exercises, incorporated into drama, dialogue and discussions, used as passwords or secret messages, or can be used to form the basis of an original story. In fact, tongue twisters can be used in an endless number of ways.
Typically, tongue twisters are alliterative, or a combination of alliteration and rhyme, and can comprise as little as two words such as:
One bun
Lemon lollies
Fried fish
Sick sheep
Longer phrases often contain sequences of sounds that require the speaker to reposition their tongue quickly and move their lips in different directions, in order to articulate the phonemes correctly. Such as:
Who stole the tooth?
I scream for ice cream
Eleven violins and five French violas
Big blue bears, big brown bears
Peter Piper picked a peck of pickled pepper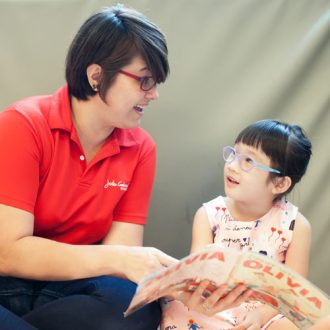 Tongue twisters can also take the form of a short rhyme, for example:
A twister of twists once twisted a twist
But the twist that he twisted was a three-twisted twist.
In twisting that twist, one twist came untwisted
And twisted the twist that the twister had twisted. (Traditional)
These are just a few examples of the different types of tongue twisters that can be used with children from three years and upwards. And the great thing is that when children have a grasp of different letter sounds, they can make up their own.
Why do we use tongue twisters in our programmes?
Vocal warm ups. Tongue twisters exercise the muscles we use for speech (tongue, lips, jaw, pharynx). These muscles vibrate the vocal cords which then make sound.  Whether a child or an adult, tongue twisters are an ideal way to warm up vocal cords before a performance, presentation, speech or debate.
Articulation. Tongue twisters help with correct enunciation and clarity of speech. They help children learn how to pronounce single sounds, combination sounds, whole words and sentences.
Expressive speaking. Tongue twisters help develop fluency of speech, whole language and communication and encourage expressive speaking.
Speech identification. Our specialist educators can identify where a student may have difficulty articulating a certain sound and help them correct it or if the child has a more specific speech difficulty that would benefit from further investigation. 
Memory and focus. Children develop listening skills and their ability to focus as they memorise sequences of sounds or a whole rhyme.  
Builds confidence. Tongue twisters are an enjoyable way to overcome the fear of standing up in in front of friends and speaking. They help children build the confidence to speak out loud and use their voice effectively,  in front of peers or present to an invited audience.
Some of the benefits of practising tongue-twisting phrases
Tongue twisters can be challenging as they are designed to be difficult at all levels of language and communication development.  Mastering a tongue twister, whether just two words or two lines, promotes a great sense of achievement. Children feel motivated and empowered.
Mastering the correct sounds in words is critical for early reading success. Tongue twisters are a great way to help preschoolers build strong literacy skills because they help with sequencing and organisation – critical skills for reading and writing. 
Tongue twisters are helpful when learning other languages. Moving the tongue from one part of the mouth to another with speed is crucial in many languages, especially tonal languages, for mastering correct pronunciation.  Tongue twisters are frequently used in TEFL courses for adult students to help them with English language fluency and pronunciation and to understand their areas of weakness.
Research has discovered that tongue twisters can help with speech-planning success. In some cases, tongue twisters are used by speech therapists on older people to determine if they are suffering from cognitive decline. 
Family fun time!
Make tongue twisters a part of your family bonding time every now and again. It doesn't matter if you all end up getting in a muddle. Start off slowly and clearly and then speed up or simply try getting to the end of a line in one vocal piece!  Avoid making them a chore for your child though. Remember, this is supposed to be fun and learning should be a positive experience!  The biggest laugh often comes when we say something funny or even rude by mistake because we get our tongue all twisted.
Try the tongue twister examples above and these tongue twister building games as a family at home. (Very young children can try one and two word phrases, perhaps three words). Take your time, building the phrases up one word at a time once you have mastered each preceding phrase or word.  Can you memorise them? How far can you get before your tongue gets twisted? 
Tigers
Tigers talking
Three tigers talking
Thirty-three tigers talking
Three hundred and thirty-three tigers talking
Three thousand, three hundred and thirty-three tigers talking
Thirty three thousand, three hundred and thirty-three tigers talking !
Please miss, will miss, you miss, lend miss, me miss, your miss, big miss, brown miss, book miss?
Please miss?