About Us
We believe individuality is the source of original thought, the driver of change.
HUMBLE BEGINNINGS
In 1983, Julia Gabriel opened a small teaching studio in her home in Singapore to put into practice the ideals and philosophy she had developed in England. She decided that, as speech and drama had helped her to develop confidence as a child, she wanted to share her experiences with her own children and those of her friends who became her first students.
EARLY SUCCESS
Speech and drama in Singapore was an instant hit! Word went around quickly and in 1990 Julia and her husband David set up Julia Gabriel Centre in an old black and white house in Halifax Road. The centre began with Julia and two other speech and drama teachers, an assistant teacher and a two-person administration team.
INITIAL EXPANSION
Fuelled by the creativity, dedication and passion of gifted educators and support staff, more programmes were added to meet growing demands: Written Language Arts (now called Readers & Writers), PlayClub for toddlers and parents, PlayNest for children from 6 months, programmes in Mandarin and our very own preschool, Chiltern House (in the house next door to Julia Gabiel Centre). Julia Gabriel Centre also became the Singapore representative of London's Guildhall School of Music and Drama (the external examinations department of which later merged with Trinity College London) and established a School Support Services department to take our programmes out to schools.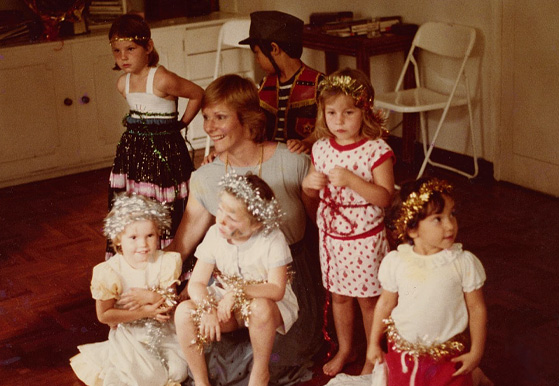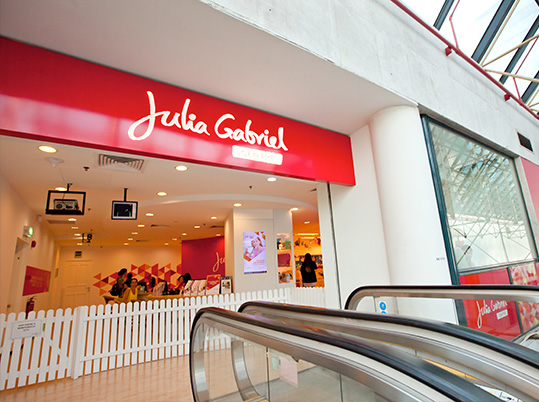 GOING OUT TO SCHOOLS
In 1991, Julia Gabriel Centre became the first speech and drama centre to be registered with Singapore's Ministry of Education. This enabled us to take out our English EduDrama programmes to preschools, primary schools and secondary schools throughout Singapore.
SHIFT TO FORUM
In 1998, the houses in Halifax Road were earmarked for demolition and Julia Gabriel Centre shifted our operations to Forum in Orchard Road. Our flagship centre has remained in Forum ever since, taking up the 4th floor of the shopping mall. (The first Chiltern House centre remained in Halifax Road – but moved to another house further down the road – before moving to Thomson Road in 2017.)
MORE CHILTERN HOUSES
As the Julia Gabriel Education team grew, more Chiltern Houses opened (1999 at Forum, 2001 at Turf Club Road; 2003 at the East Coast and 2010 in Mountbatten). There are 5 Chiltern Houses operating in Singapore today.
OVERSEAS EXPANSION
In 2002, the Julia Gabriel School of Education (our adult training division) was formed to train teachers, which enabled the start of overseas joint venture centres in New Delhi. In 2004, our first combined Chiltern House and Julia Gabriel Centre opened in Jakarta. A centre in Kuala Lumpur opened in 2006. In 2007, a centre was opened in Shanghai. In some of these places, there are now multiple centres. In 2019, a new Julia Gabriel Centre also opened in Bangkok. Today, Julia Gabriel Centre speech and drama programmes are now also available in Ho Chi Minh City, while Chengzhu Mandarin enrichment programmes are also available through our partner organisation in Sydney.
FOR TEENAGERS
As part of our community service, Julia Gabriel Centre has been organising the annual Singapore Secondary Schools Debating Championships since 1999 – a competition which involves school from across Singapore every year.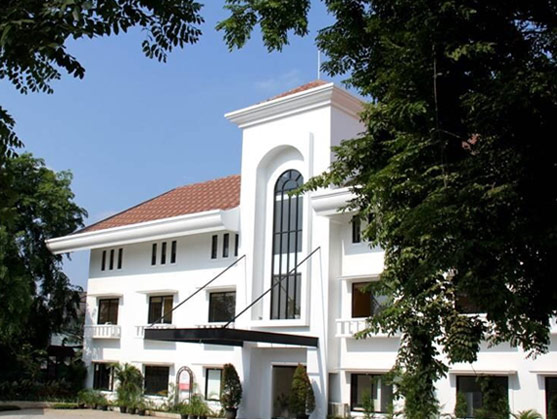 Julia Gabriel Education Milestones:
1980 Julia Gabriel starts teaching in England
1983 Julia Gabriel begins teaching classes from her home in Singapore
1988 Julia's students begin taking Speech & Drama and Oral Communication examinations of the Guildhall School of Music & Drama in Singapore
1990Julia Gabriel Centre opens at Halifax Road
1991Singapore's Ministry of Education licenses Julia Gabriel Centre as the first speech and drama centre in Singapore
1992 PlayClub programme for toddlers and parents begins
1993 Julia Gabriel awarded Honorary Membership of the Guildhall School of Music & Drama, with the award presented at a special ceremony by the Lord Mayor of London
1994 The first Chiltern House centre opens at Halifax Road (in the house next door to Julia Gabriel Centre)
1995 Feng Ming Yi Mandarin Centre (a collaboration of Julia Gabriel Centre with Professor Feng Ming Yi and Professor Hou Jinghui) opens
1995Julia Gabriel Centre's School Supports Services department begins teaching programmes outside our centre in preschools, primary schools and secondary schools
1998Julia Gabriel Centre moves to Forum in Orchard Road and Mandarin programmes are moved into Julia Gabriel Centre
1999Chiltern House Forum opens
1999Julia Gabriel Centre begins organising the annual Singapore Secondary School Debating Championships
2001 Chiltern House Turf Club Road opens
2001 Speech and drama teacher training programme conducted by Julia Gabriel Centre for teachers at PCF kindergartens begins
2002 Julia Gabriel School of Education (our centre's adult training division) formed to run programmes for adults and teacher training programmes on an ongoing basis
2002 Julia Gabriel Centre in New Delhi opens
2003 Chiltern House East Coast opens
2004 Julia Gabriel Centre and Chiltern House open in Jakarta
2006 Julia Gabriel Centre and Chiltern House open in Kuala Lumpur
2007 Julia Gabriel Centre and Chiltern House open in Shanghai
2010  Chiltern House Mountbatten opens
2012 Chengzhu Mandarin Centre opens in Rochester Mall
2014 'EduDrama®: A Guide to Speech & Drama', written by Julia Gabriel, is published
2015 Julia Gabriel Centre at Tampines Mall opens
2016 Chengzhu Mandarin Centre launches the Chengzhu Mandarin Kindergarten programme
2016 Julia Gabriel is awarded Honorary Membership of Trinity College London
2018 Julia Gabriel Centres achieves the Singapore Quality Class Award with a special recognition in service
2018 3rd Julia Gabriel Centre and Chiltern House Shanghai, China opens (QianTan Kindergarten)
2019 Julia Gabriel Centre Bangkok opens
2019 Julia Gabriel Centre speech and drama programmes begin in Ho Chi Minh City, Vietnam, along with Chengzhu Mandarin enrichment programmes in Sydney, Australia
2020 Julia Gabriel Centre, New Delhi and NCR Regions opens
2020 4th Julia Gabriel Centre and Chiltern House Shanghai, China opens (QianTan Nursery)
2022 5th Julia Gabriel Centre and Chiltern House Shanghai, China opens (Xuhui Nursery)
2022 Julia Gabriel Centre at Greenwich V opens