GRANDPARENTS AS CHILDCARERS
With the arrival of Queen Elizabeth's latest great grandchild, 'grannies' have been big in the news of late. Just this June, the BBC posted an article on Instagram about a lady in the UK, aged 86, who recently became a great, great, great grandmother. Yes, three greats before the grand! Hard to believe but true! That means there are now six generations of the family alive at the same time. 
Most of us may only get to meet our grandparents, with a smaller number experiencing a great grandparent.  But that may soon change!  Along with Japan, Singapore has one of the most ageing populations in Asia. According to R. Hirschmann (Statista February 2021), as of 2020, residents aged 65 and above in Singapore make up 15.2% of the population, an increase of six percent in the last 10 years. And studies indicate that by 2030 in the USA, more than 70 percent of eight year olds will have at least one living great grandparent.
Sadly, there are societies, mostly in the developed world, that undervalue their elderly. This tends to be less prevalent in Asian and developing nations where three or more generations within a family reside together and the experience and advice of elders is more generally revered.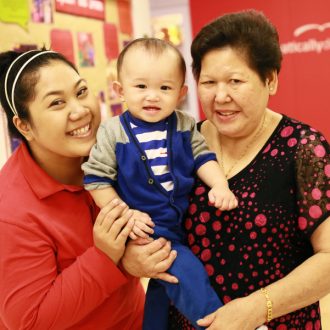 The distance between being a parent of young children and the grandparent of young children often allows for a relaxation of rules; a calm wisdom that develops with the passing of time and experience. Our grandparents, and great grandparents, provide us with invaluable links to the past, often connecting us to the culture of a bygone era. Though not always the case (there are of course grandparents who live far away or who adopt a more formal attitude towards their grandchildren) many of us cherish a grandparent as being the person we snuggled into for a comforting cuddle, the funny storyteller, a kind voice, the ally who allowed us to get up to mischief when our parents were not looking.
There is no doubt that many grandparents are indispensable to families because of their role as caregivers, providing vital childcare facilities to working couples or single parents; a role predominantly carried out by a grandmother. Increasing numbers of grandparents globally are fully responsible for raising grandchildren. In Singapore, Health Promotion Board figures released in 2013 show that one in three people over the age of 55 look after grandchildren on a regular basis, with one in four households with children under the age of 12 relying on grandparents as the main caregiver. The extended family sharing a home remains a cultural norm for many ethnic groups within Singapore, with many benefits attached. Often, it makes both economic and practical sense for the whole family.
Younger grandparents may still be working themselves, but working or not, if they are willing and able to form strong attachments with their grandchildren, the benefits of healthy intergenerational bonding are potentially wide-ranging for everyone involved. At Julia Gabriel Centre and Chengzhu Mandarin Centre, we welcome many grandparents into our Early Learning Programmes and Adult Accompanied Programmes – and we love having them!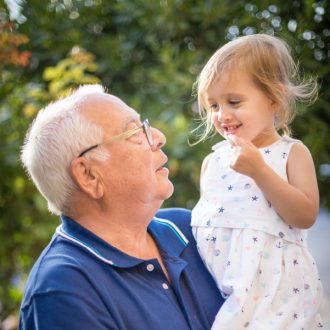 Benefits of grandparent as childcarer:
Quality time. Grandparents, especially if retired, provide the gift of time to their grandchildren, whether occasionally during special occasions or every day after school. Simple pleasures lived in the moment enable both grandparent and grandchild to build up a bank of treasured memories. 
A personal teacher. Grandparents are a great source of information, a tangible link to the past and especially in Singapore, where many were born overseas, an incredible way to keep family history, culture and language alive.
Experienced care. Grandparents are also parents. They 'have the T-shirt'! Whilst friction may occur; differences of opinion between parents and in-laws over discipline for example, a grandparent often takes on the role of moderator during arguments. Functioning by instinct rather than peer pressure, they tend to worry less, taking a more leisurely approach to child rearing.
Constancy leads to positive development. The constant presence of a grandparent in a child's life adds a level of normalcy and stability that contributes to their well-being and positive development.  In Singapore especially, where parents frequently work long hours, the care, affection and dependability of a close relative who loves the child unconditionally, is extremely important. When we feel loved and cared for we learn to trust others, especially positive role models who figure prominently in our lives. Trusting those who care for us, enables us to feel safe, confident and self-assured.
Win win! Research has shown that a strong grandparent grandchild bond brings many mental benefits to both parties, particularly when grandchildren are older and more able to assist their grandparents. One of the most positive effects documented among elderly people who spend a substantial amount of time with much younger relatives, is the lowering of depression. The saying 'young at heart' is indicative of how many grandparents feel when surrounded by children and young adults.  After all, learning is a lifelong process and there is much to learn from children. Not only that, children love to take on the role of teacher. Grandparents can learn a lot from children about the latest technology for example – and children will love to show them! 
The presence of a grandparent in a child's life cannot be underestimated. We can all benefit and learn a lot from this precious generation. Let's be sure to listen to them, enjoy them and make them feel cherished.
What is the connection between your child and their grandparents? What is or was your own bond with your grandparents? We would love to hear from you!