PROGRAMMES
At Julia Gabriel Centre, we believe each individual is exceptional.
Holiday Programmes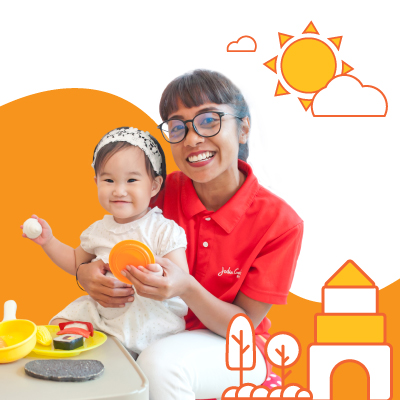 Sensational Sensory Surprises
PlayNest 6 – 18 months (Adult Accompanied Programmes)
3 SESSIONS | 6 ,13 & 20 DECEMBER 2020
Very young children learn so much about the world around them through sensorial play!
In this three-part holiday programme, we introduce infants and toddlers to some of our favourite sensory activities. Each week children will engage with a variety of surprise hands-on activities, specially designed to help create new and positive connections in the brain. This natural developmental process enables them to comprehend their surroundings, as they hone their observational skills, develop cognitive skills, explore early mathematics (weighing, measuring, pouring, filling and so on), and build language.
Along with other enjoyable activities that cultivate curiosity and exploration, such as action songs and art and craft, each session is bound to become a memorable experience for children and adults to share and treasure!
9.00 am – 10.30 am
11.00 am – 12.30 pm
1.00 pm – 2.30 pm
$280 + GST
*10% discount for UOB Credit and Debit Cardmembers
*15% Group Discount for 4 or more children who register at the same time