PROGRAMMES
At Julia Gabriel Centre, we believe each individual is exceptional.
Holiday Programmes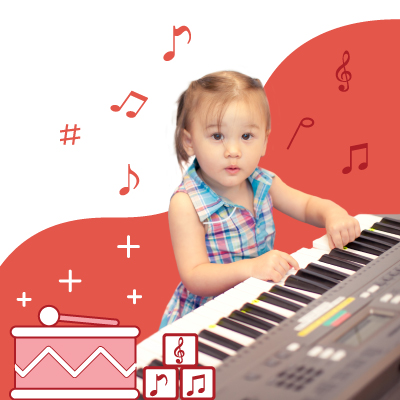 Memorable Music Magic

PlayClub 1½ – 3 Years (Adult Accompanied Programmes)
WEEK 3 | 15 DECEMBER – 19 DECEMBER 2020
Boogie to the beat, dance to the rhythm and move your happy little feet! Everyone is invited to our super singalong this December.
Young children are instinctively drawn to music and songs. Upbeat rhythms and repeated refrains encourage them to jiggle their body and clap their hands in time to the music, honing their listening skills, gross and fine motor skills and social skills in the process. And by physicalising language with actions modelled by their teacher, they build vocabulary in the most enjoyable and natural way.
But this musical week includes so much more than simply singalongs! Using dramatic play, puppets, stories and art and craft too, our lively and nurturing educators will take your child on a fantastic adventure, engaging their imagination, creativity and curiosity. What's more, you'll have lots of fun together!
This gleeful week of rhythm culminates with a surprise performance that combines all our toddler top hits into one unforgettable medley. Tune up your voices and get ready to join in as we make memorable music magic together.
Please note that performance timings on the last day are as follows:
For the 9am class, the performance and activities will be from 9am to 10.30am
For the 11.30am class, the performance and activities will be from 11am to 12.30pm
For the 2pm class, the performance and activities will be from 1pm to 2.30pm
9.00 am – 11.00 am
11.30 am – 1.30 pm
2.00 pm – 4.00 pm

$450 + GST
*10% discount for UOB debit/credit card members
*15% Group Discount for 4 or more children who register at the same time