PROGRAMMES
At Julia Gabriel Centre, we believe each individual is exceptional.
Holiday Programmes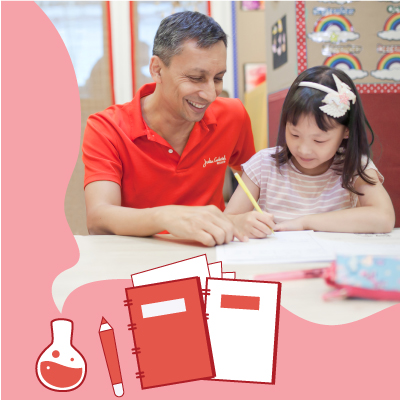 P1 Preparatory Camp
Kindergarten 2
WEEK 1 | 30 NOVEMBER – 4 DECEMBER 2020
The transition to Primary One is an important milestone in the life of preschoolers. Armed with the necessary skills to be confident learners, children can make the transition effortlessly.
Join us for our P1 Preparatory Camp as we support your little one through their big transition. In a nurturing and stimulating environment we will help students reinforce their listening and recall skills, whilst challenging thought processes to ask meaningful questions and consider different perspectives.
This preparatory camp includes the following elements:
Phonetic skills including digraphs, blends, rhyming words and vowel combinations
Grammar skills including subject-verb agreement and parts of speech
Writing conventions including punctuation and sentence structures
Spelling tips
Handwriting
Comprehension activities including understanding the question tags of 'who?', 'what?', 'where?', 'when?', 'why?' and 'how?', and exposure to different comprehension formats
This five-day emersion in a language-rich environment will enable your graduating preschooler to look forward to primary school with confidence as we lay the foundations for effective communication.
$470 + GST
*10% discount for UOB Credit and Debit Cardmembers
*15% Group Discount for 4 or more children who register at the same time