PROGRAMMES
At Julia Gabriel Centre, we believe each individual is exceptional.
Holiday Programmes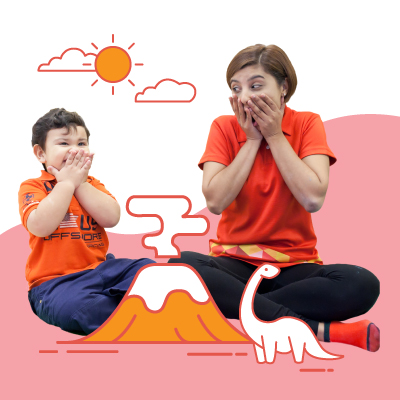 The Amazing Dino Land Rescue

Nursery 1 & 2 Camp
WEEK 3 | 14 DECEMBER – 18 DECEMBER 2020

Rumble! Shake! Rumble! A volcano in Dinoland is about to erupt!
Dinosaur experts are racing against time to save Dinoland and prevent this natural disaster. If you are keen to become a dino scientist, come and join Professor Petra in this rescue mission. We need to discover new dinosaurs of different shapes, sizes, colours and quirky personalities to rescue Dinoland. The new dinosaurs will teach us how to prevent the volcano eruption and ensure the survival of all the dinosaurs. Together with Professor Petra, we'll make a Dinosaur Rescue Kit which will hold all our findings as we race to save Dinoland!
Exciting drama activities, colourful stories, moving and speaking rhymes, art and craft and early literacy activities await nursery children in this five-day adventure.
Stomp the earth and shake it up in this Amazing Dinoland Rescue and look forward to taking home your very own Dinosaur Rescue Kit!
Forum
Nursery 1
8.30 am – 11.00 am
2.30 pm – 5.00 pm
Nursery 2
9.00 am – 11.30 am
12.00 pm – 2.30 pm
Tampines Mall
Nursery 1/2
10.30 am – 1.00 pm
$470 + GST
*10% discount for UOB debit/credit card members
*15% Group Discount for 4 or more children who register at the same time