PROGRAMMES
At Julia Gabriel Centre, we believe each individual is exceptional.
Holiday Programmes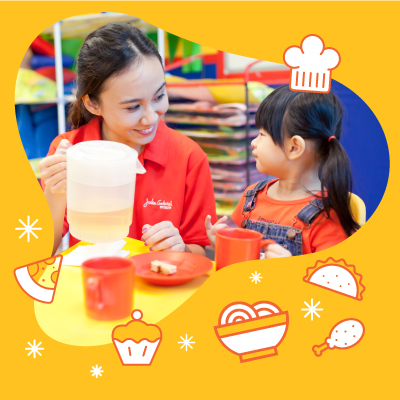 Cookalicious Food Festival

Nursery 1 & 2 Camp
WEEK 2 | 7 DECEMBER – 11 DECEMBER 2020
Renowned chef Wasabi Wok desperately wants to participate in the upcoming Cookalicious Food Festival this December. But his ambitious plan cannot be carried out alone!
Chef Wasabi is looking for talented sous chefs to help him create exciting, palatable recipes for the Food Festival with a master plan to whip up unique dishes from the past and present. Join Chef Wasabi Wok as he travels through time gathering recipes and transforming them into lip smacking dishes!
Our junior chefs will enjoy a rich diet of language as they delve into drama using poems, rhymes and stories. This fabulous culinary adventure will culminate in the Cookalicious Food Festival on the final day of camp when our budding little chefs will share their favourite creations. These recipes will also be compiled into a Cookalicious recipe book for everyone to keep and continue their cooking adventures at home.
Hurry, there are limited passes to join Chef Wasabi Wok's team as a junior chef! Are you ready to cook up a storm?
Forum
Nursery 1
9.00 am – 11.30 am
12.00 pm – 2.30 pm
Nursery 2
9.00 am – 11.30 am
3.00 pm – 5.30 pm
Tampines Mall
Nursery 1/2
2.30 pm – 5.00 pm
$470 + GST
*10% discount for UOB debit/credit card members
*15% Group Discount for 4 or more children who register at the same time