PROGRAMMES
At Julia Gabriel Centre, we believe each individual is exceptional.
Holiday Programmes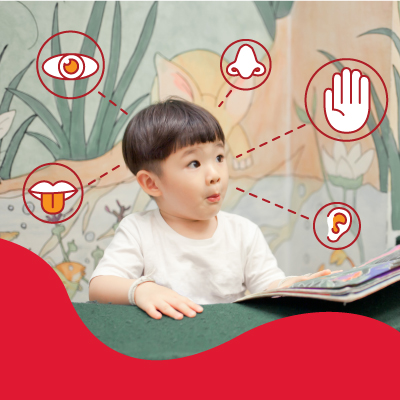 Super Sense Savers!
Nursery 1 & 2 Camp
WEEK 1 | 30 NOVEMBER – 4 DECEMBER 2020
Something strange is happening in Sense Ville. The townspeople are at a loss as their sense of sight, smell, hearing, taste and touch have all become muddled. Devious Dodger, the town mischief maker, has stolen the senses for his own experiments!
Suzy Sensable, the town mayor, is looking for brave and wise children to help her outsmart Devious Dodger and retrieve the five senses which he has stolen!
A whirlwind of excitement awaits as children participate in superhero role play that helps develop confident self-expression. Through a host of engaging activities including moving and speaking rhymes, word games, stories, poems and craft, children will collaborate to save Sense Ville and restore the townspeople's senses.
This five-day sensory adventure will culminate in a town parade where the Super Sense Savers display their spectacular capes and showcase a joyful celebration of the senses!
Come join us for a truly sensational week of adventure!
Forum
Nursery 1
12.00 pm – 2.30 pm
Nursery 2
9.00 am – 11.30 am
3.30 pm – 6.00 pm
Tampines Mall
Nursery 1/2
10.30 am – 1.00 pm
$470 + GST
*10% discount for UOB debit/credit card members
*15% Group Discount for 4 or more children who register at the same time