PROGRAMMES
At Julia Gabriel Centre, we believe each individual is exceptional.
Holiday Programmes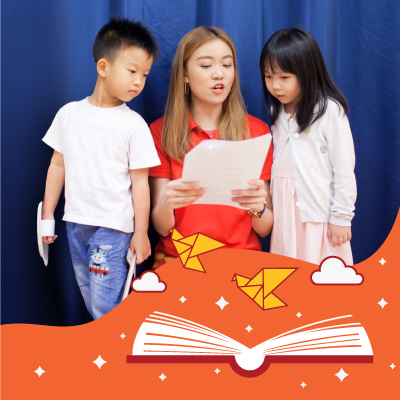 Wonderful Land of Stories
Kindergarten 1 & 2 Camp
WEEK 3 | 14 DECEMBER – 18 DECEMBER 2020
"Wonder is the beginning of wisdom"
– Socrates
Oliver, a famous writer, is having trouble completing his new collection of fantasy stories. The characters keep disappearing into a magical land where they take on new personalities.
All budding fantasy writers are invited to join Oliver on his quest to journey through the Wonderful Land of Stories as he searches for his characters and completes his narrative. Our dramatic adventures will include recreating and retelling stories, and exploring story elements like character, setting, plot, conflict and resolution. During this five-day journey to discover the world of fantasy, our young authors will create stories of their own which will be compiled into a Fantasy Story Collection, to be shared at a Young Authors' Gallery on the final day.
So put on your writer's cap and join us as we explore the Wonderful Land of Stories!
Forum
11.30 am – 2.00 pm
3.00 pm – 5.30 pm
$470 + GST
*10% discount for UOB debit/credit card members
*15% Group Discount for 4 or more children who register at the same time