PROGRAMMES
At Julia Gabriel Centre, we believe each individual is exceptional.
Holiday Programmes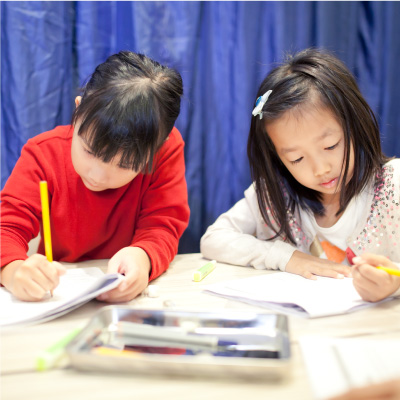 BACK BY POPULAR DEMAND
CREATIVE WRITING
Words are our most inexhaustible source of magic
– J.K Rowling
If you're looking for a truly effective, engaging and exciting creative writing programme for your child, we have just the ticket! At Julia Gabriel Centre we have 30 years experience of developing confident, expressive and imaginative writers. Through our carefully structured lessons that use colourful, successful and engaging techniques, we motivate and inspire students to create and record their own stories.
Each workshop includes a live session via Zoom as well as off-line materials and activities which can be accessed during and after each call. Our creative writing programmes have been specifically created to suit the developing needs of children aged 7 to 12 years old.
Budding Novelists
Primary 1 & 2
WEEK 2 & 3 | 5 SESSIONS
Aims and objectives:
To build descriptive vocabulary

To understand how to develop an interesting plot

To explore characterisation

To understand writing conventions (punctuation, grammar, verbs and agreement)
Students will complete an original fable by the end of the programme.
WEEK 2 | 7 DECEMBER – 11 DECEMBER 2020
9am – 10.30am
WEEK 3 | 15 DECEMBER – 19 DECEMBER 2020
2.00pm – 3.30pm
$285 + GST
*10% discount for UOB debit/credit card members
Creative Explorers
Primary 3 & 5
WEEK 2 & 3 | 5 SESSIONS
Aims and objectives:
To understand how to employ emotive language – showing not telling

To explore effective openings – good hooks

To develop plot with rising tension

To develop editing skills for punctuation, grammar and sentence fluency
Students will complete an original, fractured fairy tale by the end of the programme.
WEEK 2 | 7 DECEMBER – 11 DECEMBER 2020
2.00pm – 3.30pm
WEEK 3 | 15 DECEMBER – 19 DECEMBER 2020
9.00am – 10.30am

$285 + GST
*10% discount for UOB debit/credit card members