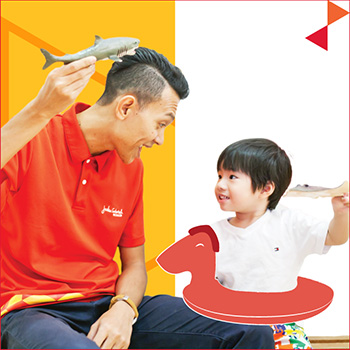 SPLASHING FUN IN THE SUN!
(PLAYCLUB)
(1½ – 3 Years)
Adult Accompanied Programme
Forum (week 2)

9 am – 11 am
11.30 am – 1.30 pm
2 pm – 4 pm

Hey! Ho! Off to the beach we go!

Rainbow Bear loves the scorching hot sun, soft silky sand and the scintillating sea breeze. That is why he is inviting you all for a week of fun at the beach!

Put on your snazzy shades, sun hats and swimsuits! Dive into the deep blue sea to create memories that will last forever. Pack your beach bags and follow Rainbow Bear and friends for a wonderful week full of stories, drama, art and craft, puppets, music and lots more!

With the gift of imagination, your child will be fully immersed in this wonderful, interactive and enticing programme. So what are you waiting for? Come and join Rainbow Bear at the beach!

Sign Up Now!