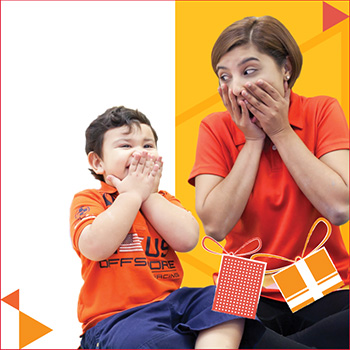 RAINBOW BEAR'S BIRTHDAY BASH!
(PLAYCLUB)
(1½ – 3 Years)
Adult Accompanied Programme
Forum (week 1)

9 am – 11 am
11.30 am – 1.30 pm
2 pm – 4 pm

Hip hip hooray! It's Rainbow Bear's birthday! Come and join us as we celebrate our lovable, huggable, adorable bear's special day!

Laugh, sing, play and dance to the beat, boogie on down and move your feet! Our fun-filled week has a multitude of exciting activities in store for you and your toddler. Experience spectacular stories, dynamic dramas, creative art and craft and much, much more. What a great way to explore, learn, absorb language and build confidence! Our Alphabet Zoo characters will also come alive for the best birthday celebration ever! Rainbow Bear and his friends can't wait to welcome you to the most unforgettable birthday bash!

See you there!

Sign Up Now!