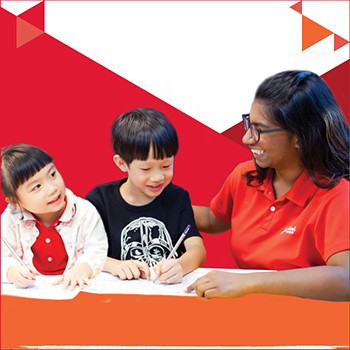 PRIMARY 1 PREPARATORY CAMP
(For Kindergarten 2)
Week 1
Week 2

Forum

12 pm – 2.30 pm
3.30 pm – 6 pm
3 pm – 5.30 pm
Week 1
Week 2

Tampines Mall

2.30 pm – 5 pm
10.30 am – 1 pm

The transition to Primary One is an important milestone in the life of every preschooler. Armed with the necessary skills to be a curious and confident learner, with the right preparation, children can make the transition effortlessly. In this programme, students will enjoy a host of activities that focus on:

Phonetic skills –including rhyming words, blends, digraphs and vowel combinations
Grammar skills –including subject-verb agreement and different parts of speech
Writing conventions –including punctuation and sentence structure
Spelling tips
Hand writing
Comprehension –including understanding the question tags Who, What, Where, When and How, as well as exposure to different comprehension formats.

This 5-day camp will have your preschooler looking forward to primary school with enthusiasm and confidence, as it lays the foundation for effective communication.

Sign Up Now!