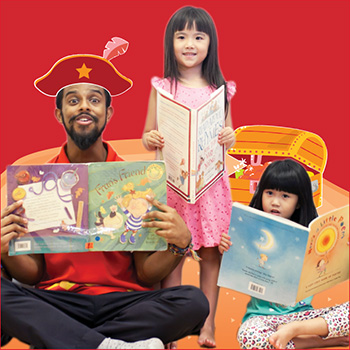 CAPTAIN WHOO?! AND THE LOST TREASURE
(Kindergarten 1 & 2)
Speech & Drama and Readers & Writers Camp
Week 1
Week 2
Forum
9 am – 11.30 am
9 am – 11.30 am
12 pm – 2.30 pm
12.30 pm – 3 pm
3 pm – 5.30 pm
3.30 pm – 6 pm
Week 1
Week 2
Tampines Mall
10.30 am – 1 pm
10.30 am – 1 pm
2.30 pm – 5 pm
2.30 pm – 5 pm

Ahoy matey! Captain Whoo?! and his band of pirates are looking for new members to join their crew. Train to be a tough, swashbuckling pirate so that you too can fend off the dangers you are bound to encounter as you go in search of … lost treasure!

It is rumoured that the King of the Oceans buried his most prized possessions in the sea over a hundred years ago. Captain Whoo?! is determined to find this treasure and restore it to the Ocean Kingdom. Pirates on this perilous journey will discover shipwrecks and mermaid lagoons. They will have to manoeuvre around traps, climb volcanoes, and might even encounter strange creatures of the ocean!

This thrilling five-day quest will include drama adventures, exploration of poems and stories and the learning of pirate rhymes and tongue twisters. Our journey with Captain Whoo?! will be recorded in a journal which each pirate can bring home on the final day. Who knows, Captain Whoo?! may even share some of the treasure with his pirates!

Are you ready to be a pirate?
Aye, aye, Captain!

Sign Up Now!