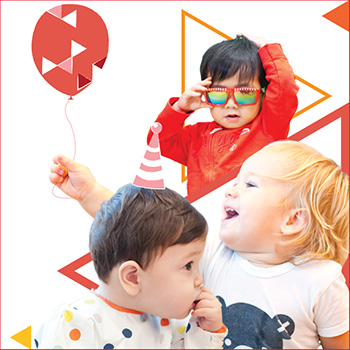 A BIRTHDAY SURPRISE FOR RAINBOW BEAR
(PLAYNEST)
(6 – 18 Months)
Adult Accompanied Programme
Forum (week 1)

9 am – 10.30 am
11 am – 12.30 pm
1 pm – 2.30 pm

Yay, Rainbow Bear is having a birthday party! It's time to give our furry, friendly bear a week of fun, laughter and surprises that he will never forget. And since we all love birthday parties, let's prepare the most fantastic party ever for everyone to enjoy!

We promise this will be a wonderful, interactive week full of games, songs, stories, puppets and art and craft. Every engaging activity will delight and inspire your little one's sense of wonder and curiosity. You'll have fun too as you bond with your baby in our warm, nurturing and lively PlayNest environment. We look forward to seeing you all for this sensational celebration!

Everyone is invited! RSVP early!

Sign Up Now!